Originally published on stuff.co.nz Friday, 3 September 2021
Demand for loans fell by 30 per cent overnight when the country moved to alert level 4 on August 17, data from credit reporting bureau Centrix shows.
But while that was a shock for the economy, it was nothing like the 70 per cent drop when the first national lockdown began in March last year, said Keith McLaughlin, managing director of Centrix, which tracks credit check data on businesses and individuals.
"It's likely New Zealanders entered this lockdown with more confidence, remembering the strong economic rebound that followed last year's lockdown," he said.
Already an economic rebound could be seen in an immediate uptick in demand for credit "south of the border" on Wednesday, after all of New Zealand south of Auckland moved to level 3, McLaughlin said.
"We got a small boost in level 3 volumes for south of border yesterday," he said.
That uptick could be seen in the volume of credit checks done by companies on people seeking loans like mortgages and car finance, or seeking to switch power company, or sign up to a telephone plan.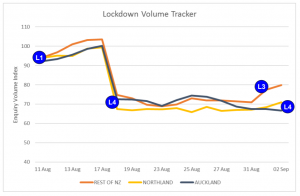 McLaughlin said many businesses and households shifted to do more of their commerce online as a result of last year's level 4 lockdown, and so were less dependent on going into shops and branches to transact.
One section of the credit market that has benefited from lockdown was buy now, pay later finance.
"Lockdown supports increased online shopping," McLaughlin said. "As a result, and as with previous lockdowns, the move to level 4 has resulted in an uptick in buy now, pay later applications.
"All other sectors have trended down, with auto and energy sectors hardest hit since the transition to alert level 4."
But though confidence seemed to be holding up "a long lockdown in Auckland could change this, putting pressure on businesses and households and requiring the introduction of further monetary and fiscal support", McLaughlin said.
The toll taken on businesses by yo-yoing in and out of higher alert levels appeared to be showing in worsening company closure rates, and a sharp increase in the number of business loans going into default.
"Business closures and credit defaults were already rising as smaller firms increasingly experienced cashflow stress," McLaughlin said.
Business closures over the last quarter doubled while new business registrations were down 4 per cent in July, he said.
"Business credit defaults were up 11 per cent over the last quarter."
Business in the rental property, accommodation, food, and transport businesses were the most likely to have defaulted on loan repayments, Centrix found.