By Keith McLaughlin, Managing Director Centrix
Company credit defaults in the construction sector are beginning to rise, as construction companies have experienced the highest default rates since the final quarter of 2019.
New Zealand's construction sector is made up of around 80,000 businesses, who have been trading for an average of nine years. This means the sector is a significant linchpin of the New Zealand economy, comprising 14% of New Zealand's total businesses.
Interestingly, 24% of construction companies were incorporated since March 2020 (post Covid), perhaps as a result of redundancies during Covid forcing people to revert back to their trade, or to ride the wave of the construction boom at the time.   These companies now pose a big risk – only a third of companies go the distance for more 5 years.
Across the country, construction companies are facing the strongest challenges as material shortages, rising costs, and the housing market downturn continue to place pressure on the sector. Despite this, many companies in the sector appear to be thriving – employment in the sector is up 1%, and profits are up 14% year-on-year.
However, our data gives an indication of a less positive outlook. More than 100 construction companies have been placed into liquidation so far this year and defaults (i.e., missed payments) are up 10% compared to same time in 2021. Across the country, 25% of all company liquidations in May were from the construction sector.
Credit scores for the sector are also in decline. The average credit score for new credit applications (that is construction businesses applying for finance or a loan) across the sector is down eight points, as the potential risk of default increases across the sector.
While some companies continue to thrive, the lingering impact of COVID-19 restrictions coupled with the current building supplies crunch, disrupted supply chain, and labour cost increases will continue to impact those businesses that are already struggling.
If your business is a supplier to the construction sector, it's a good idea to be proactively managing your credit risk. A business credit report, for example, can help you to understand who you're lending to, protecting your cashflow by letting you know immediately if a customer's credit score indicates they are unlikely to pay their bills on time.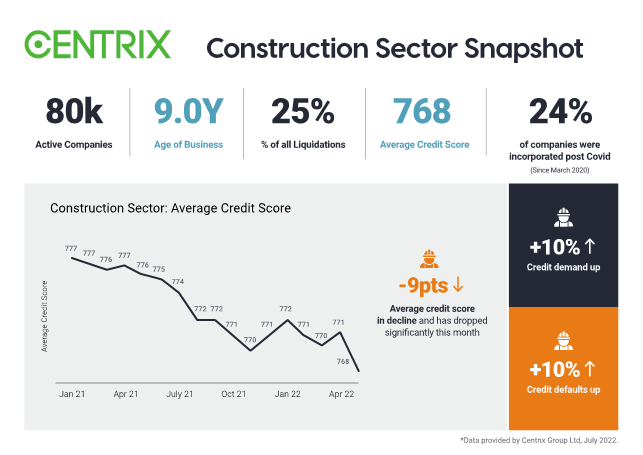 Cost-effective credit checking
You can access business credit reports for many New Zealand companies online from Centrix. These reports contain up-to-date information about the credit worthiness of sole traders and most companies actively trading in New Zealand and a credit score, which is a summary of the information in the report.
To find out more visit https://www.centrix.co.nz/get-reports  or contact us to find out how we can help.